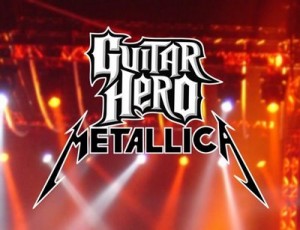 Curiosamente, y como muestra del soporte de la banda, fue Metallica y no Activision esta vez la encargada de entregar la lista completa de temas del próximo a estrenarse Guitar Hero temático de Metallica.
Algunos detalles más al respecto, indican que aquellos que se hayan descargado el album Death Magnetic de la banda, verán el mismo incluído directamente en el juego. Diferente será la situación para los usuarios de Wii y PlayStation 2, quienes no solamente recibirán el juego unos meses más tarde, sino que además tampoco podrán contar con el album Death Magnetic. Para compensar a estos usuarios, Metallica confirmó que las versiones de Wii y PS2 vendrán con tres canciones extra: Broken Beat & Scarred, Cyanide y My Apocalypse.
A continuación la lista completa de temas para el esperadísimo Guitar Hero: Metallica.
Canciones de Metallica
* All Nightmare Long
* Battery
* Creeping Death
* Disposable Heroes
* Dyers Eve
* Enter Sandman
* Fade To Black
* Fight Fire With Fire
* For Whom The Bell Tolls
* Frantic
* Fuel
* Hit The Lights
* King Nothing
* Master of Puppets
* Mercyful Fate (Medley)
* No Leaf Clover
* Nothing Else Matters
* One
* Orion
* Sad But True
* Seek And Destroy
* The Memory Remains
* The Shortest Straw
* The Thing That Should Not Be
* The Unforgiven
* Welcome Home (Sanitarium)
* Wherever I May Roam
* Whiplash
Canciones de otras bandas
* Alice In Chains – No Excuses
* Bob Seger – Turn The Page
* Corrosion of Conformity – Albatross
* Diamond Head – Am I Evil?
* Foo Fighters – Stacked Actors
* Judas Priest – Hell Bent For Leather
* Kyuss – Demon Cleaner
* Lynyrd Skynyrd – Tuesdays Gone
* Machine Head – Beautiful Mourning
* Mastodon – Blood And Thunder
* Mercyful Fate – Evil
* Michael Schenker Group – Armed and Ready
* Motorhead – Ace of Spades
* Queen – Stone Cold Crazy
* Samhain – Mother of Mercy
* Slayer – War Ensemble
* Social Distortion – Mommy's Little Monster
* Suicidal Tendencies – War Inside My Head
* System of a Down – Toxicity
* The Sword – Black River
* Thin Lizzy – The Boys Are Back in Town
Más artículos sobre: Activision, Guitar Hero, Guitar Hero: Metallica, Metallica, PS2, PS3.
Ver todo dentro de la categoría Juegos, Playstation 2, Playstation 3, Wii, Xbox 360.